The Makelangelo 2.5 – which recently made its Tindie debut – is described as "sitting on the sweet spot between power and price."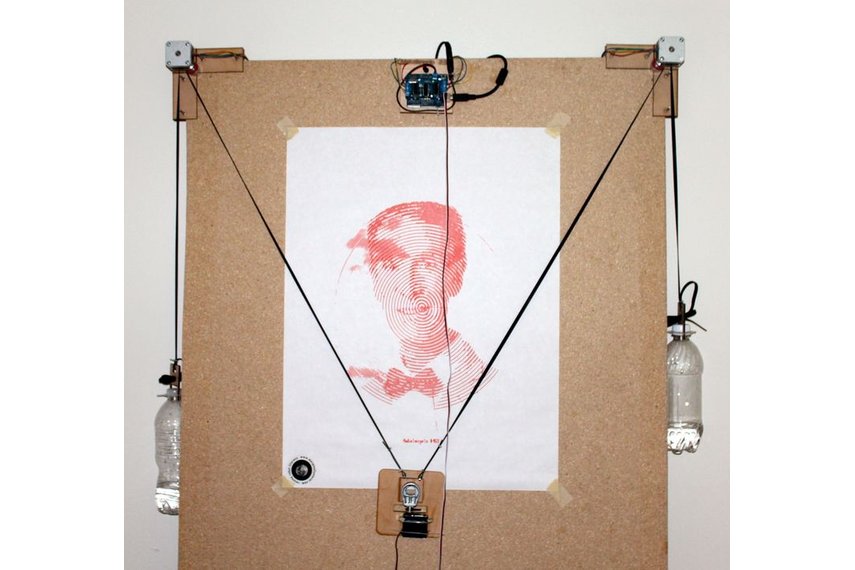 Sold as a bare-bones kit (sans the Atmel-based Arduino Uno which can be purchased here), the platform is regulated by Java software tasked with converting pictures into lines.
Essentially, the software sends the lines to the robot one at a time with GCODE. The robot leverages trigonometry to calculate the length of each belt.
Meaning, to move from point A to point B the robot determines the change in belt length and subsequently pulls the belts at the right speed to move in straight lines. 

Repeat 10,000 times and yes, you have a beautiful picture.
Currently available on Tindie at a $200 price point, kit contents include:
2x ROBO-0022 Makelangelo 3 motor mount for wood
1x ROBO-0021 Makelangelo 3 pen holder
1x KIT-0002 Adafruit motor shield v1
1x ELEC-0001 5.5*2.1 female power plug
2x MOTO-0003 Stepper Motor, NEMA17, 12v0.3a
3x MECH-0051 Timing Belt, GT2-6×1000
1x MECH-0070 Makelangelo 2.5 laser cut parts
Interested in learning more? You can check out Makelangelo's official Tindie product page here.