Powered by an Atmel based Arduino board, CROMATICA creates an ambient experience by fusing light and sound. 

This digital hybrid – which acts as a both a table lamp and speaker – is controlled via a gestural interface and remotely via an app.
"The name has a story. The word 'Cromatica' (chromatic in English) comes from the Greek 'Chroma' (color). It is used to describe the phenomenon of light but is also common in musical harmony," a Digital Habits rep explained in a recent CrowdRooster post.
"The Chromatic scale is a specific musical scale consisting of all twelve semitones of the tempered system. We wanted an object that combined music and light, system and warmth. CROMATICA was the perfect name."
CROMATICA is equipped with white and colored RGB dimmable light to create ambient effects. Light is provided by the combination of two types of LED lighting: white for practical comfort lighting and RGB to create an adjustable array of colored lighting. Meanwhile, warm white lighting creates a pleasant tone; ideal for reading it can be dimmed to produce convivial, welcoming atmospheres. In addition, the two lighting systems are capable of being regulated independently and mixed to produce an infinity of combinations.
So, how does it work? Well, each individual function can be controlled with simple hand gestures, in case CROMATICA isn't connected or a smartphone isn't in reach.
"The upper face is embedded with a sophisticated control system consisting of matrix of cap-sense sensors; this system allows CROMATICA to interpret your movements so that any gesture is recognized as a command," the Digital Habits rep continued.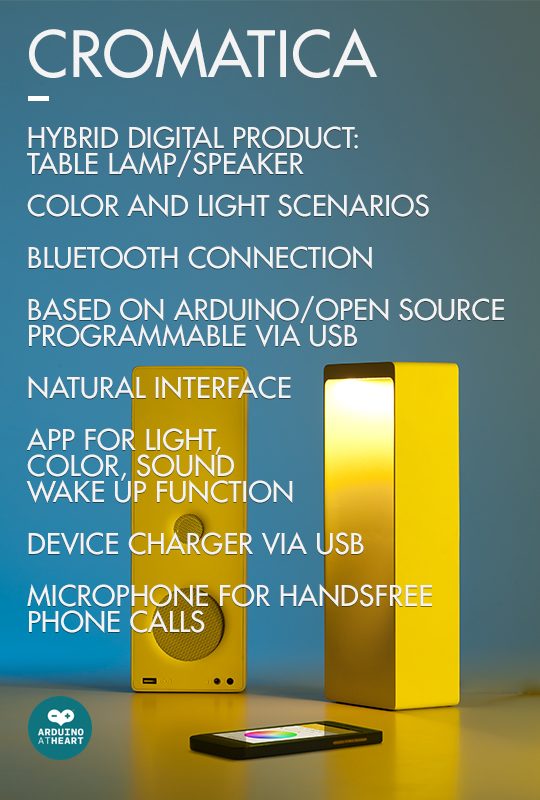 "Each individual gesture was studied and chosen for maximum simplicity and natural spontaneity; instruction books or manuals are not necessary, each command is natural yet simple because it refers to instinctive gestures."
More specifically, touching the middle of the circle turns the light on and off. Intensity can be regulated by simply prolonging contact with the device. When CROMATICA is being used as a sound system, dragging a finger on the circle on the upper part of the device will increase or reduce the volume. To 'pause', place the hand and fingers on the top of the lamp.
On the sound side, a microphone integrated in the front panel allows the device to be used as a speaker-phone when the handpiece is connected to the lamp. Meaning, the call can be answered or terminated by simply touching the upper part of the lamp. 

CROMATICA is also a powerful Bluetooth speaker with the sound managed by a 7w amplifier. Sound is produced via a pair of loudspeakers, a 3" woofer with a neodymium magnet for the optimal response to the medium-low frequencies and a 1.5" tweeter for crystal clear reproduction of the higher frequencies.
Additional key features and specs include:
LED WHITE source, 250 lm, 3000K, 110°, CRI 85
LED RGB
Speakers – 3"speaker low/mid range and 2" tweeter
Amplification – 2×6 W (12V/8 Ω)
Frequency Response: 85 Hz to 20 kHz
PLUG supply 12v 2A
USB port

Input: 100 – 240 V , 50/60 Hz

Output: 12 V CC, 2 A
USB port to upload firmware
USB port to charge devices such as smartphones with 5V supply
Interested in learning more? You can check out CROMATICA's official page here.