Contiki – an open source OS for the IoT – is developed by a world-wide team of devs with contributions from a number of prominent companies such as Atmel, Cisco, ETH, Redwire LLC, SAP and Thingsquare.
Essentially, Contiki provides powerful low-power Internet communication, supporting fully standard IPv6 and IPv4, along with recent low-power wireless standards: 6lowpan, RPL and CoAP.
With Contiki's ContikiMAC and sleepy routers, even wireless routers can be battery-operated. 

Contiki facilities intuitive, rapid development, as apps are written in standard C. Using the Cooja simulator, Contiki networks can be emulated before being burned into hardware, while Instant Contiki provides an entire development environment in a single download.
Recently, the open source Contiki was featured by Wired's Klint Finley, who describes the versatile OS as the go-to operating system for hackers, academics and companies building network-connected devices like sensors, trackers and web-based automation systems.
"Developers love it because it's lightweight it's free, and it's mature. It provides a foundation for developers and entrepreneurs eager to bring us all the internet-connected gadgets the internet of things promises, without having to develop the underlying operating system those gadgets will need," he writes.
"Perhaps the biggest thing Contiki has going for it is that it's small. Really small. While Linux requires one megabyte of RAM, Contiki needs just a few kilobytes to run. Its inventor, Adam Dunkels, has managed to fit an entire operating system, including a graphical user interface, networking software, and a web browser into less than 30 kilobytes of space."
Unsurprisingly, consumer technology companies are beginning to embrace Contiki as well. To help support the burgeoning commercial usage of Contiki, OS founder Adam Dunkels ultimately left his job at the Swedish Institute of Computer Science and founded Thingsquare, a startup focused on providing a cloud-based back-end for Contiki devices.
"The idea is to make it easy for developers to connect their hardware devices with smartphones and the web," added Finley.
"Thingsquare manages the servers, and provides all the software necessary to manage a device over the web."
It should be noted that Thingsquare recently showcased various Internet of Things (IoT) applications at Embedded World 2014 in Nuremberg, Germany.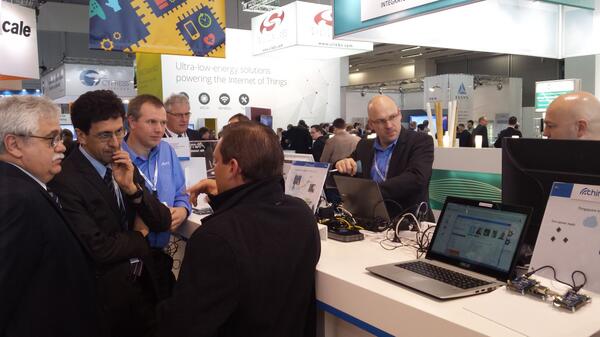 Indeed, a number of Thingsquare's demonstrations were powered by Atmel's recently launched SAM R21 Xplained PRO evaluation board – illustrating the seamless integration of Thingsquare's software stack with Atmel's new SAM R21 ultra-low power wireless microcontroller (MCU).
Interested in learning more? You can check out Contiki's official page here and read about Thingsquare's use of Atmel tech here.