Writing for Electronic Design (ED), Iliza Sokol says Atmel's recent Maker and Education Community panel illustrates how the wildly popular DIY Maker Movement is positively changing the engineering industry.
The panel was moderated by moderated by Windell Oskay, co-founder of Evil Mad Scientist Laboratories. Panelists included Massimo Banzi (co-founder of Arduino), Reza Kazerounian (Microcontroller SVP at Atmel), Suzanne Deffree (Executive Editor at UBM Tech's EDN), Brian Jepson (Editor at Maker Media), Annmarie Thomas (Engineering Professor at the University of St. Thomas), Bob Martin (member of Atmel's microcontroller team) and Quin Etnyre (the 12-year-old CEO of Qtechknow).
All of the panelists, says Sokol, agreed the rapidly growing Maker Movement offers a sense of hands-on practicality for aspiring engineers that traditional education may lack.
"Oskay asked why schools should invest in engineering education when they are struggling as a whole. Banzi then reiterated the benefits of the Maker Movement, saying that Makers keep costs down," writes Sokol.
"Thomas took it one step farther by emphasizing that the Maker Movement is about actual making – not necessarily the tools that are involved – and that it celebrates curiosity and inventiveness."
Etnyre, who at 12 is already CEO of a company that sells open-source electronics kits and teaches Arduino classes, talked about how the rapidly evolving Movement has had a direct effect on the engineering industry in the last five years alone.
"With crowdfunding, smaller projects have the potential to become bigger open-sourced projects," he explained.
When asked how one should persuade a kid to spend money on an electronics kit instead of a video game, Etnyre replied: "Just tell them they can make the video game they want to play with Arduino."
As we've previously discussed on Bits & Pieces, typical interests pursued by Maker culture include engineering-oriented projects such as electronics, Arduino-based robotics, 3D printing with Atmel-powered printers like the MakerBot or RepRap and the use of CNC tools.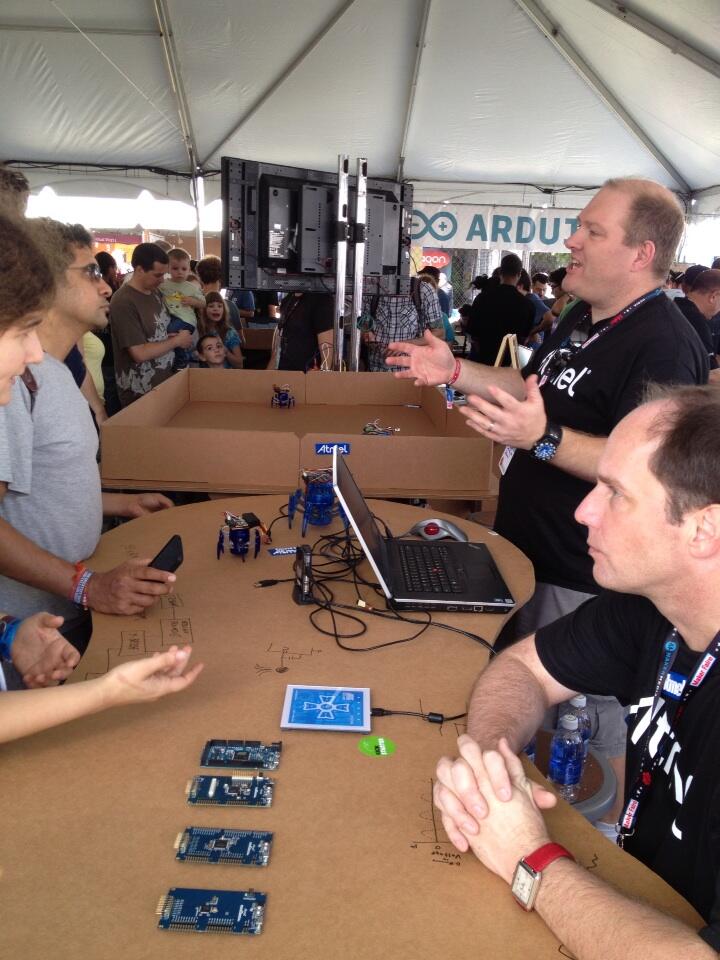 Indeed, Larry Magid, a technology journalist who writes for the San Jose Mercury News, recently noted that the Maker Movement is growing exponentially by taking advantage of 3D printers, inexpensive microcontrollers (MCUs), robotics, CAD and the ability to control machines with computers, tablets and smartphones. The truth is, says Magid, we are all Makers to a certain extent, even if some of us don't know it yet.
"All of us – even Leonardo da Vinci – were late comers as far as the Maker movement is concerned," he opined. "Our prehistoric ancestors millions of years ago, figured out how to turn stones into tools so that they could make things. Only they didn't have fairs, books and websites to document the process."
Will.i.am, the technophile founder of The Black Eyed Peas, also offered a ringing endorsement of the Maker Movement and related culture on Facebook.
"Every young person is going to be inspired to be a maker from now on," said Will.i.am. "It's like how everyone used to want to be a musician, an actor, an athlete — but a maker is what people are going to want to be."